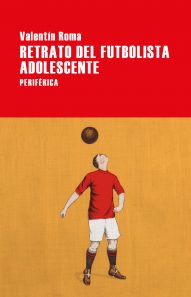 Retrato del futbolista adolescente
Periférica, 2019 | A Portrait of the Football Player as a Young Man
La prensa ha dicho...
«Roma aims at a deep question about reality and identity, and how these are built (…) A purge, yes, but especially an illumination The portrait is extraordinary. Written with talent. With smart self-parody. With a lot of stupefaction. Without nostalgia or resentment of what happened before.» Antonio Lucas, El Mundo
Sinopsis
Camus said he owed everything he knew about the obligations and morals of men to football. This book explores everything footballers achieve despite obligation, everything they imagine against morality, everything they still believe in when the final whistle blows.
The author, Valentín Roma, was once a footballer himself, but abandoned his early career to study art history and aesthetics. He is now Director of the La Virreina museum in Barcelona and a university professor. Son of a factory worker with firmly held political convictions, the book charts Roma's rise into the middle classes.
His journey reflects the collective social mobility of a generation born in Spain in the late 1960s and early 70s, the university-going children of rural immigrants. Heirs to the social aspirations of the time, they live with one foot in the bourgeoisie and the other still rooted in the instinct for survival. Following in the wake of James Joyce and Stephen Dedalus, this portrait of a teenage footballer is also a reflection on what success brings and what it takes away. Roma explores his decision not to pursue fame and fortune on the pitch. The book gathers together comments overheard behind closed changing room doors, the ideology of ligaments and kneecaps, observations on the players' inner lives, and their desires and anxieties. This is a fascinating story, never told in Spanish literature before, which blends tears and laughter.