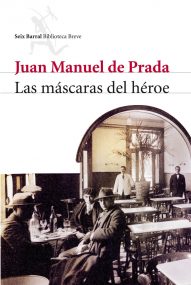 Las máscaras del héroe
Valdemar, 1996 | The Masks of the Hero
Traducciones
France / Seuil; Italy / E/O; Portugal / Presença.
La prensa ha dicho...
"The best Spanish novel in the last twenty years." Arturo Pérez-Reverte
"This novel is the proof of a remarkable vitality." R. Rerolle, Le Monde des Livres
"An outstanding first novel, fluent, sarcastic and full of widsom, whichh has made a spectacular burst into young Spanish literature." Lili Braniste, Lire
Sinopsis
(The Masks of the Hero) Upon the engraving of History, Juan Manuel de Prada weaves the tormented and dream-like lives of his one thousand and one characters, among which that of Fernando Navales and Pedro Luis Gálvez. For the former any way escaping poverty and getting to know literary glory is fair, especially by plagarising the works of Pedro Luis de Gálvez, a bohemian poet who is in dire straits. While Gálvez hangs out in Madrid cafés carrying the body of his stillborn child in a shoebox and robs banks to help his anarchist friends, Navales uses blackmail on writers and artists, strikes up a friendship with powerful political figures and is in charge of the right-winged armed forces of the Falange.
Pío Baroja, Valle-Inclán, Gómez de la Serna, Buñuel, Dalí, Borges, Lorca – all the great Spanish figures of the first decades of this century will witness the merciless struggle that Navales and Gálvez are engaged in, in this pitiless portrait teeming with prostitutes and beggars, anarchists and criminals, painters and poets. This image of Spain plunged into cruelty and decadence will drive one of the main characters towards wretchedness and the other to a reediming heroism.
With this first magnificent novel, Juan Manuel de Prada has made a staggering debut in Spanish literature. Thanks to his narrative force and his devastating sarcasm as well as his literary ambition, he has instantly established himself as an outstanding writer, he most inventive and surprising of the whole new Spanish generation.