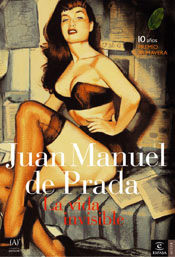 La vida invisible
Espasa-Calpe, 2003 | Invisible Life
Traducciones
France / Seuil; Italy / E/O.
Premios
***Primavera Award 2003***
La prensa ha dicho...
"A novel about madness, about the need to redeem one's faults and make amends (…) a descensus ad inferos" Juan Manuel de Prada when accepting the Primavera Award.
Sinopsis
(Invisible Life) The promising young author Alejandro Losada reluctantly leaves Madrid on the eve of his wedding to give a lecture in Chicago. He is totally unaware that the experiences awaiting him will forever alter the course of his life. First there is Elena, the attractive and somewhat deranged young woman who loves his novels that he will meet on the plane. Then there's Chambers, the mysterious man attending his lecture who will entrust him with his most cherished treasure: a bunch of recordings. These recorded tapes tell the story of Fanny Riffel, a glamorous pin-up from the 50's who suddenly vanished from public life.
All the characters in this novel seem to despair in their search for something to give meaning to their existence and somehow unearth the 'invisible life' – a world concealed behind the surface of things which is made up of our most secret, unfulfilled desires and reveals our true nature.