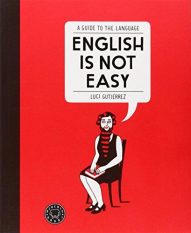 English Is Not Easy
Blackie Books, 2013
Traducciones
Alemania / Kunstmann; Brasil / Record-Bestseller; Corea del Sur / Woongjin Thinkbig; China / Simple - The Eurasian Publishing Group / Complex – Post Wave; Francia / Denoël;  Italia / Rizzoli; Lituania / ForSmart; Países Bajos / Scratch Books; Portugal / Marcador; República Checa / Grada; Rusia / Clever Media; Ucrania / Vivat; US-UK / Penguin Random House; Vietnam / Nhan Tri Viet
Premios
***Winner of the Junceda Illustration Award to the best education and comunication book of 2014***
La prensa ha dicho...
«A very special textbook. Funny and macabre, these small illustrated lessons are full of mischievous spirit, surreal irony and and a dark sense of humor.»
Patrick Williams, Elle France


«A terribly funny book, decidedly beautiful and, if needed be, useful. A fun and sassy book. Tip: use your Friday to get this book, and you will be bilingual before the weekend is gone.»
Le Magazine du Monde
«A comic that draws on word play and cartoons to make learning fun. Three hundred pages packed with illustrations,blasphemy and sex for educational ends.»
Beppe Severgnini, Corriere della sera
«An alternative, one-of-a-kind, fun-filled approach to language learning. […] Learning English properly need not be a daunting task.»
Blooksblog.it
«The most delightful and original English course I have ever come across.»
Eduardo Bollos,  Tendencias Fashion Mag
«In English is not easy, the images are stronger than ever.»
Virginia Collera, El País
«English is not easy is one of the publishing surprises of the season.»
Yo Dona
«Luci Gutiérrez has managed to create an intriguing hybrid of graphic novel and English text book that delights in its simplicity and skill.»
Albert Espinosa, El Periódico
«Education and entertainment, a winning formula.»
Peio H. Riaño, El Confidencial
«A playful, somewhat unorthodox handbook. […] Handy tips and sinister sketches, with the dark audacity that made her such a hit on the pages of the New Yorker and the New York Times. Luci Gutiérrez will change the way you look at your English teacher.»
Stylist
Sinopsis
Hay dos tipos de personas: los que aprenden idiomas con facilidad y los que andan peleándose siempre con cualquier lengua que no sea la suya. Yo (y probablemente tú también) soy del segundo tipo. No quiero ni pensar en la cantidad de horas (¡y dinero!) que he dedicado a aprender inglés cuando en realidad lo odiaba. Pero como la gente parece tan inteligente cuando lo habla, no he cejado en el empeño. Lo que me ha llevado a hacer cursos on-line, cursos intensivos de verano, e incluso ir hasta Nueva York y madrugar en pleno invierno para llegar al Far West ruso de Brooklyn: resistir el sopor de clases impartidas en pleno Times Square por profesoras de acento dudoso que, mientras tanto, recibían masaje de entregadas alumnas japonesas. Todo ello aderezado con los correspondientes libros de texto de temáticas emocionantes como sólo pueden serlo los deportes de riesgo y los fenómenos atmosféricos; vocabulario de uso cotidiano para cuando vas a comprar el pan, ves sobrevolar un parapente y el huracán de turno irrumpe.
Llegados a este punto, una, que tiene memoria de pez, no puede permitirse olvidar lo que aprende, y por eso empecé a dibujar para recordar palabras y estructuras. Y los dibujos se convirtieron en este libro y el inglés en algo entretenido. A mí, al fin, me ha servido para enlazar algunas palabras en otro idioma y parecer más lista.