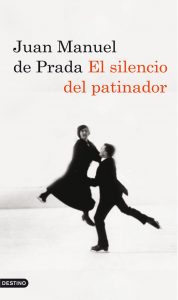 El silencio del patinador
Valdemar, 1995 | The Silence of the Skater
Traducciones
France / Seuil; Germany / Klett-Cotta; Italy / E/O; Portugal / Fenda
La prensa ha dicho...
"To say that Juan Manuel de Prada is a sound promise is not enough. He is more than just that, and is bound to become a lot more." Ricardo Senabre, ABC.
"A long literary career is awaiting Juan Manuel de Prada. He is exceptionally gifted and has enthusiasm, an essential condition where art is concerned." Miguel García Posada, El País.
Sinopsis
(The Silence of the Skater) A book of short stories written by an heterodox author with a style and fantasy that border on virtuosity, a gift of irony and sarcasm and a remarkable skill in evoking atmospheres or creating new worlds. Juan Manuel de Prada shows us the hidden side of things, an atrocious, visionary and absurd x-ray of a reality which lives within us. Children who are about to leave childhood, sleepless adolescents, ruthless social climbers, writers tortured by their own mediocrity and bohemians inhabit the short stories of this book, brought together by the criminal, irreverent and sentimental prose of Juan Manuel de Prada. A book bound to last which opens up a whole new range of unsuspected worlds.