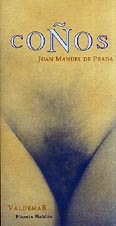 Coños
Valdemar, 1995 | Cunts
Translations
Finland / Like; France / Seuil; Germany / Klett-Cotta; Greece / Kastaniotis; Italy / E/O; Portugal / Fenda.
Press
"A creator who improves prose and brings Spanish language up to date" Francisco Umbral, El Mundo.
"A highly recommendable book" Miguel García-Posada, El País.
Synopsis
(Cunts) Is a book written for those who still think that literature and fun should not fall out. Somewhere between lyrical narrative and poem in prose, between absurdity and gentleness, between automatic writing and the craftsmanship of language, Coños is a homage to women and literature which aims to become an episodic celebration of the female body, of the obsessive deification of women through words.
Juan Manuel de Prada mocks the genres, playfully intertwining lyrical fragments with apocryphal memories, classic cut literature with a tributary vanguard sense of humour and the offers, in his own style, a book that could create a new genre in his own right.