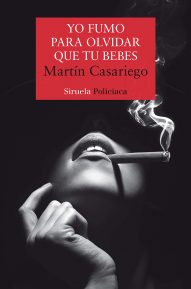 Yo fumo para olvidar que tú bebes
Siruela, 2020 | I Smoke to Forget That You Drink
Synopsis
With this book, Martín Casariego begins a noir series filled with literary, cinematic, musical, and comic references that will take us through the sewers of politics and business, the highest and lowest spheres of society, love and disenchantment.
It's the end of the eighties, and Max Lomas, handsome, agnostic, cynical, sentimental, cultured and godless, is living between Madrid and San Sebastián, where he works as a private bodyguard protecting a professor under threat from ETA.
In Madrid, Max falls in love with Elsa Arroyo no sooner than he sees her. "It was spring, that's an irrelevant detail, in a love story any season will do. In a way, everything started there. The leather, the songs, the gunfire. The world, my life. Everything." In the meanwhile, his counterpart in the Basque Country, the ambitious and temperamental García, starts to wonder what side of the line between crime and the law he belongs on. García's interest in Elsa will complicate everything…
The product of a sober and precise style with occasional tinges of lyricism; vivid, demolishing dialogues rife with irony, profound and amusing in equal parts; often stirring action; and humor that distinguishes it from other novels in the genre; all this will make the reader relish every single chapter.