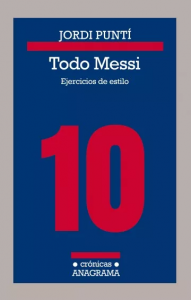 Tot Messi. Exercicis d'estil
Empúries - Anagrama, abril 2018
Translations
**ENGLISH SAMPLE TRANSLATION AVAILABLE**
(Albany, Bolimet IDK); (Arabic World, Atlas Publishing); (China, simplified: China Pioneer / complex: Infortress); (Germany, Kunstmann); (Italy, Baldini Castoldi); (The Netherlands, Thomas Rap); (Poland, SQN); (Turkey, Epsilon); (World English, Short Books)
Press
"Puntí is one of the greatest Catalan authors and this book, nothing a minor work, is at the height of that greatness." Juan Villoro, Babelia-El País
"With playful, emotional and analytical prose, the author analyzes the career and professional future of the man who has revolutionized the football world." La Vanguardia
"In this multifaceted essay, written from a clean, grateful and intelligent perspective, Puntí delves on the figure of superstar Leo Messi. Messi draws attention at once in the field… and in bookstores!" El País
Synopsis
(All Messi. Exercises in style) Since Leo Messi landed at the F.C. Barcelona as a thirteen years old boy, his dimension in football has grown so much that he is now the best player of all times. All the kids want to be Messi, his t-shirt is the best selling in every continent and the videos of his goals and plays are the most watched on YouTube.
Leo Messi has made us very happy and these exercises in style are an attempt to round off and prolong this happiness. Jordi Puntí captures in words the beauty of his game, his hunger, the genius and the obsession of a football player that has been compared to Mozart or Picasso. His figure is at the center of each of these texts, from the first goals when he was a child in a Rosario field, to the way he fights for every ball, from the rivalry with Cristiano Ronaldo to the relationship with Barça's teammates, from his records and individual awards to his ability to repeat historical goals. Messi is also a 21st century artist, and embodies the predictions that Italo Calvino sketched for this millennium: lightness, speed, accuracy, visibility and multiplicity.
With a playful, sentimental and analytical prose, Puntí makes us revive the privilege of seeing Messi at play, but we are also looking forward to the intrigues of the future. Will 2018 be his great year with FC Barcelona and Argentina? As national coach Jorge Sampaoli says, "Football owes him a World Cup". And there are still more questions: how will football be when Messi retires? How shall we be, after Messi?