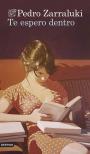 Te espero dentro
Destino, febrero 2014
Awards
–Selected Book of the Week in El País
Press
"No matter which literary form he chooses, Zarraluki carves out his own niche, by no means an easy one to fill in Spanish literature in recent years (…) Do not miss out on this magnificent collection, made up of eleven stories, each one more hopeless and perfect than the one before." J. Ernesto Ayala-Dip, El País
"A simplicity that is tricky to pull off (…) Stories that win the reader over, making one identify with the hopes and failures of the main characters. (…) Each story surprises anew." J.A. Masoliver Ródenas, La Vanguardia
"Zarraluki is a solid, honest writer , a master of his craft. (…) Ideas of striking beauty and characters that touch the heart. (…) The virtues of Te espero dentro lie in its narrative efficiency, its pared-down style and a heartwarming refined compassion, embracing everything from a sketch of childhood to the despair of late thirty-somethings ." Nadal Suau, El Cultural
«Zarraluki is a trapeze artist of Spanish fiction, walking the fine line between the novel and the short story, then back again, leaving in his wake such memorable works as Retrato de familia con catástrofe and Un encargo difícil." David Morán, ABC
"A novel in which every sentence takes on a life of its own. Written with the complex simplicity of a crystal-clear style that gives the reader a front-row view of inner lives where nothing is quite what is seems and where explosive revelations are made when you least expect it. (…) The author takes a bow. Worthy of a standing ovation." Tino Pertierra, Mercurio
"Written with straightforward efficiency, the stories run with clockwork-like precision, with a small cast of characters and punchy, hard-hitting set pieces. (…) an admirable book." Daniel Gascón, Heraldo de Aragón
"Stories tinged with "melancholic humor", with solitude as their backdrop." Toni Polo, elDiario.es
"The short story form has been crying out for writers like Pedro Zarraluki, who in Te espero dentro has gathered together eleven short stories in the classic mold, with characters so finely drawn they leap off the page to overwhelm the reader with their tales of woe." Carlos Sala, La Razón
«Choosing a favorite from this crop of short stories is no easy task. Woven by a master of his craft, pared down to the bare bones.» Tino Pertierra, La Opinión
Synopsis
(I'll Wait Inside) A short story collection worthy of its place alongside those by such masters of the form as Carson McCullers or John Cheever.
The characters in these stories are unaware they are being watched. A small girl teaches her father to feign sleep in order to wriggle out of a tight spot; an old woman watching television for the first time discovers the connection between time and grasshoppers; a conversation between two brothers sparks a rebellion against the life their father has bequeathed them; Sonia wolfs down cans of condensed milk in an attempt to ward off a present that threatens to overwhelm her… and it is then, unbeknownst to them, that their lives take a sudden, crucial turn. Any of us, observed in a fragile, intense instant, could inhabit the pages of this book.
With his trademark humor and exquisite elegance, combined with infinite reserves of compassion, Pedro Zarraluki portrays the surprising ability of those who appeared to have hit rock bottom to find a new lease on life and reclaim their dignity.
"Subtle slices of life, crafted by a fully-fledged master of the art of finding precisely the right angle from which to tell his tales, taking up position without the reader noticing. Hidden worlds in the hands of an exceptional narrative talent. Zarraluki's finest hour as a storyteller." Enrique Vila-Matas
"Pedro Zarraluki is a master of the short form and this book is his finest hour." Ignacio Martínez de Pisón
"A damn fine book. With tenderness and a lightness of touch, in these pages Zarraluki explores life as we live it." Maruja Torres
"Stories that are slices of life and lives that take the form of a masterful story." David Trueba
2nd reprint!!