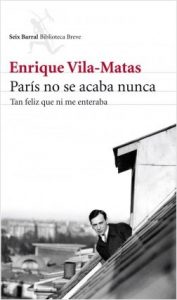 París no se acaba nunca
Anagrama, 2004; Seix Barral, 2013; PRH/DeBolsillo, 2014
Translations
(Brasil, Cosac Naify); (China -chino simple-, Zhejiang Literature); (Francia, Bourgois / Bolsillo, Titres);  (Alemania, Nagel & Kimche / Bolsillo, Fischer); (Grecia, Kastaniotis); (Italia, Feltrinelli); (Lituania, Alma Littera);  (Polonia, Muza); (Portugal, Teorema); (Rumania, RAO); (Suecia, Tranan); (UK, Harvill); (USA, New Directions)
Awards
-Selected as one of the 100 most influential Spanish books of the past century by Letras Libres magazine.
-Selected by La Vanguardia as one of the 50 best books of the decade.
Press
«Am I lecture or a novel?', Vila-Matas asks repeatedly throughout the book, but if lectures are meant to be dry, dull things, Matas makes his anything but dull. Never Any End To Paris is heady, but easy to enjoy, a small book stuffed with big ideas.» Eric Mayrhofer, Curious Animal
«To Paris in the seventies, Vila-Matas dedicates a book that is at once hilarious and with an irony full of compassion, although the heavy artillery of treachery points only at him.» Marco Cicala, La Repubblica
«A book of auto-fiction, brimming with humour in which literature and life get mixed up.» Josep Massot, La Vanguardia
«An ingenious flight over almost everything that is written in Spain.» J.M. Pozuelo Yvancos, ABC
«He has positioned himself as the Spanish writer of the decade.» Nelly Kaprièlian, Les Inrockuptibles
«Paris Never Ends (2003), by Enrique Vila-Matas has succeeded in giving a precise tone to a certain contemporary sensibility, so there's a natural continuity between what is real and what is fictitious. Or, if you like, it has "fictionalized" the "I" and the real in highly convincing literary terms. Paris Never Ends is, in my opinion, one of the finest examples of a conquest of narrative prose.» Andrés Sánchez Robayna, Letras Libres
«Never Any End to Paris contributes profoundly to our understanding of our selves - how we create them, what we create them of, and how they take on life. It is also a comic, poignant story of one writer's beginnings. It is a story very much worth knowing, not so much because it is original but because Vila-Matas's telling of it is.» Scott Esposito, The National
Synopsis
(Paris Never Ends) París no se acaba nunca is an ironic review of the literary apprenticeship of the narrator in the Paris of the seventies. A masterly fusion of autobiography, fiction and essay, it recounts the adventures he found himself in when, in a Parisian chambre de bonne he wrote his first book. And he also reveals, for example, how the books was partly written thanks to the encouragement to write that he received, on a scrap of paper, from his atypical landlady, Marguerite Duras.
París no se acaba nunca  is also the story of how, in his youth, the narrator travelled to the city literarally to imitate the Bohemian life of another who was just beginning to write – Hemingway, who told him that Paris was a party, and that there he was "very poor and very happy"; and how, on the other hand, the narrator was very poor and very unhappy. However he did manage to write his first novel and he also discovered that, as John Ashbery said, after living in Paris, one is incapable of living anywhere else, even in Paris.
In París no se acaba nunca, which is also the title of the last chapter of Paris is a Party, Enrique Vila-Matas offers us a portrait of the young debutant in life and in art, who signs up with surprisingly renewed nuances, to the already classical tradition of stories that revolve around the sentimental education of someone who in escaping an atmosphere of mediocrity, seeks to triumph in the centre of art itself.
After such resounding successes as El viaje vertical, Bartleby y compañía o El mal de Montano, the author manages in this novel to achieve a harmonious and accomplished synthesis of many facets of his own unique narrative style.  
(Spain, Anagrama; Seix Barral, 2013 / Pocket, Compactos)