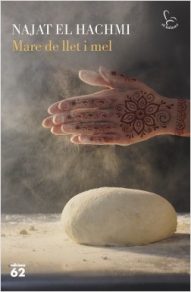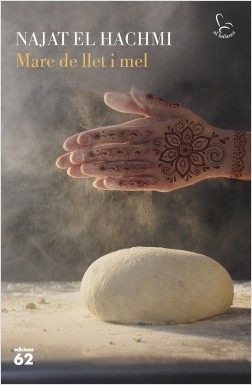 Mare de llet i mel
Edicions 62, 2018 / Destino, 2018
Translations
France / Verdier; UK / Francis Boutle Books
Film rights / Massa d´Or Produccions
Press
"The novel generates intense emotions in the reader with skillfulness [...] The story is narrated with an extreme sensitivity, penetrating like an intelligent and delicate voice, yet never ceasing to be strong and hard." Mara Malibrán, ABC
"Moving and essential." Laura Fernández, El Mundo
"This is flesh and blood writing, full of emotions, there is genuinely something at stake here. Najat El Hachmi is a must-read." Laura Freixas, Qué Leer
"A wonderful novel" Ángeles González Sinde, El Mundo
«Najat El Hachmi addresses what it means to be a Moroccan woman today with courageous complexity, free of prejudices and avoiding the corsets of politically correctness. Not to miss.»   Pere Antoni Pons, ARA **Book of the Week**
"What power to evoke Najat El Hachmi has! The sense of belonging to a world her family members are beginning to leave behind, the young immigrant's need to hold on to the ties that bind her to the land, to history and to blood. In a few short pages, the author lays out her wares, inviting the reader to sit back and enjoy. The ingredients used in her books are not on sale elsewhere in the literary marketplace." Julià Guillamon, La Vanguardia
"A formidable tale of immigration, in which a young woman from the Rif gives a first-hand account of how she left her family and her village behind in order to emigrate to Catalonia with her daughter." Mía Magazine
"The author acknowledges that the book is a love letter to her mother's life of heroism. […] With no Virginia Woolf to turn to, the oral tradition was a place women could call their own, the only place in which to give free rein to the human buried beneath so much violence and repression." Carlos Sala, La Razón
"The author has steeled herself to give literary expression to a tale she has carried deep within herself, one bristling with jagged edges that draw blood." Josep Massot, La Vanguardia
"El Hachmi describes the turmoil of what it means to be a poor, immigrant woman in the Muslim world. A life-enhancing experience which transcends any preconceptions the European reader may have about the limitations of gender and class." El Mundo
"A rallying cry against male chauvinism and repression, as well as an homage to the courage displayed by all those immigrants who, like the author's mother, came to Spain 30 years ago." Anna Abella, El Periódico
"The novel gives a meticulous account of the search for a room of one's own, to quote Woolf's much celebrated turn of phrase […] It stands as a powerful testament to a woman's pride. […] Championing the extraordinary strength of mothers, their ability to weather any storm, the book opens with a lovely dedication: "To my mother, who, without knowing how to read, taught me how to write." Jordi Llavina, El Mundo
«Najat El Hachmi addresses what it means to be a Moroccan woman today with courageous complexity, free of prejudices and avoiding the corsets of political correctness. Not to miss.»Pere Antoni Pons, ARA **Book of the Week**
Synopsis
(Mother of Milk and Honey) Mare de llet i de mel is the powerful story of Fatima, a Muslim woman that returns to Rif to visit her family after several years spent away. Once there, she tells her seven sisters all that she has gone through.
When she was a young mother, Fatima was forced to leave her family and the town she has always lived in, to emigrate with her daughter to Europe, trying to find her estranded husband. There, unable to speak or understand the language, she finds herself alone in a completely different culture where she has to face the difficulties and the shock of adapting from a small rural world to a modern city.  And yet, she fights to move forward and gives her daughter a future.
Articulated as an oral story, capturing the Amazigh spirit, the novel offers a complete fresco of what it is today to be a woman in the Muslim rural world and also a detailed and profund portrait of the experience of immigration.
** ENGLISH SAMPLE TRANSLATION AVAILABLE**