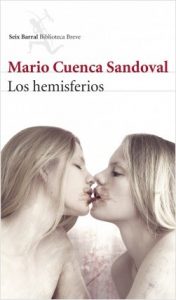 Los hemisferios
Seix Barral, 2014 | The Hemispheres
Press
«An ambitious book bathed in chiaroscuro tones. A dizzying descent into the infinite possibilities of fiction.»
Ariane Singer, Le Monde
«A wonderful nightmare. This is a mad book, a river-book, a world-book. There is nothing in it that is not totally modern, nothing that is not also the most beautiful ambition. Cuenca Sandoval makes us believe that literature, if it can't quite save the world, can probably reinvent it.» Livres Hebdo
"A towering work (…) There is no escaping the dark forces beneath its inner workings. A beautiful, malevolent rage, a savageness wrought from the literary. Which is just what we look for in some books: a punch to the guts." (Chosen as one of the books of 2014) Karina Sainz, tendencias.vozpopuli.com
«A turbulent detective story between dreams and reality that pays tribute
to the Hitchcock's masterpiece, Vertigo (…) an ambitious Borgesian exploration.» Emily Barnett, Les Inrockuptibles
"Mario Cuenca Sandoval's hard-hitting, tight and unflinching style comes to the fore. (…) A narrative shot through with thoughtful emotion. (…) The novel beats with a furious heart, offering up glorious passages. (…) By no means an easy read, but a novel overflowing with passion, enriching and brimming with fine writing." Lluís Satorras, El País
"A book that unfurls at a breakneck pace and that ought to go off like a bombshell on the somewhat predictable Spanish literary scene (…) With its daring approach and poised style, this book looks well placed to be one of 2014's bestsellers. Only demanding readers need apply." Leer
"A challenging, fascinating, madcap tour de force."  Milo J. Krmpotic, Blisstolibros, Blisstopic.com
"Writing from the gut , as unsettling as it is sublime. A demented, pulsating, redemptive read (…) A veritable  novel of ideas." Ángeles López, La Razón
"An entrancing narrative, with searching, probing prose that takes flight." Carmen Sigüenza, El Diario
"Cuenca Sandoval treats us to a doubly ambitious novel, packed to the rafters with philosophy and cultural references, calling on the reader to play an active role to get at the heart of the truth, if indeed such a thing exists." Fernando Díaz de Quijano, El Cultural
"An epic, cinematic and sweeping novel that matches  the scale of its author's ambitions." Nadal Suau, El Mundo
"He writes like a master of his craft, with prose of exquisite quality. This is literary fiction. This is literature. This is the literature of the 21st century." Andrés Ibañez, ABC
"Stunningly beautiful and elegant (...) "Los hemisferios" is that immensely rare find in which the narrative style and understanding of the literary art is laid out audaciously on the page." Alberto Olmos, Qué leer

«An original and seductive novel.» Benito Garrido, Culturamas
"One of the finest Spanish novels published so far this year. A complex novel, one that is not in thrall to the latest trends or tempted by the lure of self-absorbed, empty prose. One that neither imitates nor preaches. […] Mario Cuenca Sandoval, a trailblazer and craftsman before the blank page, is a first-rate storyteller. […] Readers take note: this book will leave no one indifferent, nor is it for the indifferent." Tino Pertierra, La nueva España
Synopsis
(The Hemispheres) A pulsating novel with shades of Cortazar's Hopscotch, Hitchcock's Vertigo, Dreyer's The Word, Woolf's Orlando and Tony Scott's The Hunger. Addictive, unsettling writing.
Gabriel and Hubert go back a long way. During one madcap summer of youth, under the spell of alcohol, drugs and the silver screen, they suffer a car accident in which a young woman loses her life. Although the two men part ways soon after, their fate will forever be marked by the tragic event. Indeed, the years go by and Hubert is now an enfant terrible, the acclaimed filmmaker Mairet-Levi; while Gabriel, a literary author of some renown, struggles to break free from the heavy shackles of guilt… but all it takes is a phone call out of the blue from Hubert to set a deranged cycle in motion: the obsessive, never-ending search for that First Woman, beyond the limits of space and time.
In a language as finely calibrated as it is disturbing, the reader bears witness to the cosmic jest that is reliving the same events in an eternal loop: being reincarnated only to lose, over and over again, the woman you love, never able to save or possess her. A novel that draws mirror-like parallels between two "hemispheres"  –the novel by Gabriel and the novel by María Levi /Hubert Mairet-Levi- the reader surrenders to the charms of a fable with no moral.