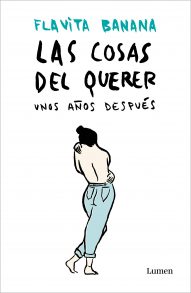 Las cosas del querer
Lumen (Penguin Random House), 2017 / Lumen, 2021 | The Stuff of Love
Press
"The Barcelona-based Asturian cartoonist gives everyday scenarios (taking in everything from coupledom to food and friendship) a real edge in The Stuff of Love, a debut offering in which her character ponders the desires common to many women, while holding stereotypes up to ridicule."  EFE
"How often have you felt insecure, incomplete, alone, lost, frustrated or uncertain: this book knows all about that. And how often have you been able to embrace and unreservedly accept the delightful mess so many of us are? You'd love to love yourself for who you are. Flavita Banana shows you the way." Rocío Martínez, eldiario.es
"In The Stuff of Love, Flavita Banana shines a critical light on our preconceived notions of womanhood, daily life and coupledom, at all times with a shrewd, intelligent and questioning eye." Ana Iris Simón, Telva
"Her illustrations, drawn in a vigorous style, are not only truly original, but also manage, in the form of seemingly simple sketches, to pack a significant narrative punch. The Stuff of Love is a fine guide on how to feel good about yourself."
Victoria Mera, Libros y literatura
"Flavita Banana is the pseudonym of Flavia Álvarez, the Oviedo-born cartoonist who has emerged onto the scene with an astonishing maturity thanks to her deftly-created scenarios and appealing drawing style. All of this is on fully display in The Stuff of Love, which gathers together in one volume sketches dealing with her emotional concerns and inspired by pithy observations. While the Asturian author scatters ideas and reflections through the books pages in a light-hearted, almost casual manner, taken together these small gems go to make up a sort of catalogue of her emotional concerns."  El diario montañés
Synopsis
**3 reprints in 1 month!!!**
An illustrated book in which a strong-willed character lifts the lid, with humour aplenty, on what it is women desire. 
(The Stuff of Love) Las cosas del querer is about not only romantic love (in all shapes and sizes), but also about the individual yearnings that every woman harbours within. For sometimes desire starts with a yes, sometimes with a no, and there are times when we would dearly love not to have to satisfy so many cravings, whether our own or otherwise.
An entertaining and heartfelt book that will make you laugh and give you pause for thought.  The author, Flavita Banana, donning the guise of a female character who, much like all her characters, has energy, strength and humour in spades, laughs in the face of hackneyed clichés and casts doubt on certain preconceived notions about women, everyday life and coupledom.
Blessed with a unique knack for depicting emotions, Flavita Banana has come up with her own individual style, portraying characters stripped bare of façades and formal manners. A vigorous style, combining energy and a sense of humour, is the hallmark of her work.