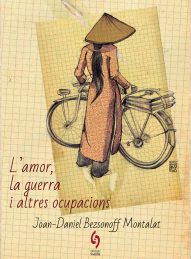 L'amor, la guerra i altres ocupacions
Sidillà, 2020 | Love, War and Other Occupations
Press
«Reading Bezsonoff not only does you good, it also provokes dialogue and conviviality.» Jaume Queralt
«Painfully short but pleasant reading. Like honey on your lips.» Xavier Aliaga, El Temps
«Reading Bezsonoff opens your mind to unprecedented subjects, but above all to the immense expressive possibility language has when it passes through his hands.» Sebastià Bennassar
Synopsis
«One day in January of 1953, a pilot signaled an abnormal concentration of birds at La Baume airbase. Thousands and thousands of crows were flying.»
So begins Love, War, and Other Occupations, the most recent novel by Joan-Daniel Bezsonoff.
Two brothers of Russian origin, a Corsican, A few Catalans from the north, and an intelligent, brave, and attractive Vietnamese woman found themselves in the final days of Cochinchina. Saigon was like a little Paris. An appearance soon to be demolished by the war and a love that is capable of changing everything.
Joan-Daniel Bezsonoff has a unique gaze in the Catalan literary panorama. He alone allows us to enter the harsh realities of the last days of Europe's aging imperialism. His books alone allow us to get close to the reality of soldiers and speak to us of love and war with irony, humor, and tenderness.