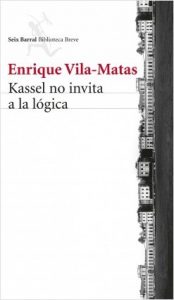 Kassel no invita a la lógica
Seix Barral, 2014
Translations
Brazil / Cosac Naify; Croatia / Edicije Bozicevic;  China / Shangai Translation; France / Bourgois; Germany / Die Andere Bibliothek; ; Greece / Ikaros; Italy / Feltrinelli; The Netherlands / De Geus; Portugal / Teodolito; Serbia / Laguna; Sweden/ Tranan; Turkey / Can; UK / Harvill; US / New Directions
Press
** 3rd reprint **
«At the journey's end, clarity of thought, insight and madness roam free in the city-exhibition.» Jean-Baptiste Harang, Magazine Littéraire
«One of the outstanding books of recent years. [...] In literary terms, a tour de force.» Livres Hebdo
"An exploration of the complexity of creation and the figure of the writer […] Vila-Matas has forged a universe in which to give free rein to his obsession with the figure of the writer, puzzling over the complexities of creation, toying with the rules of logic and reality and having a whale of a time drawing connections between literary works." Baptiste Liger, Lire
"Lovers of contemporary art, fans of the avant-garde, eager for innovation of all types, look no further. […] Blurring and making a mockery of the borders between fiction and reality, Vila-Matas, masterful and generous of spirit, will leave the reader dizzy with delight." Olivier Renault, Art press
«The novels of Enrique Vila-Matas can be read as detective fiction. You turn the page to find out what happens next and yet, once you put them down you'd be hard pressed to sum up the plot. One might label them avant-garde detective novels.» Mathieu Lindon, Libération
«The key to his work is finding the impulse to prize the world out from the rut in which it has become stuck.» Éric Chevillard, Le Monde
«The darkness perceived stands in contrast to the naïve tone, subtle irony and hilarious running gags, such as the references to the McGuffins. Only, with Vila-Matas, everything somehow links up in the end.» Bernard Quiriny, L'Opinion
«The narrator gets lost with pleasure in the forest of reference that is Kassel. A forest that documents not only Contemporary Art but also Europe itself.» Pedro Mexia, Atual
"At once his most reflective and, at the same time, his most playful, fun-filled book (…) His observations and take on the contemporary art scene are interwoven with supreme skill into an entertaining journey of discovery in which the author/character adopts a wide-eyed gaze of almost childlike wonder and delight, light-hearted, free of posturing (…) More Cervantine than ever, he has penned an outstanding portrait of the artist, a confession of a fate welcomed with open arms." J.M. Pozuelo Yvancos, ABC Cultural
"The writer who has gone furthest in the renewal or reshaping of the novel. (…) The pages on the various installations are astounding. (…) Reflections touched with madness, delirium and imagination that guide the reader through an extraordinary new realm, where the author's clarity of thought, bafflement and humor light the way." J.A. Masoliver Ródenas, La Vanguardia
"With a new novel that defies categorization, Vila-Matas unveils a dazzling new register." M. Néspolo, El Mundo
"Keen-eyed reflections on artistic creation. (…) An original and fascinating book." Jesús Ferrer, La Razón
"One of the most humanist books ever written on the contemporary art scene, for its humility, its capacity for surprise and its refusal to erect more barriers between art and society." Peio H. Riaño, El Confidencial
"At once an entertaining and highly readable meditation on contemporary art." Jordi Nopca, Ara
"Enrique Vila-Matas is one of the authors who have done most to redraw the boundaries of the literary landscape." Elisa Rodríguez, La Nueva España
"Filled with dazzling pages, particularly those using Europe as the setting for a ghost story." Nadal Suau, El Cultural
"Kassel no invita a la lógica is brimful of wit, irony and humour, all the hallmarks of Vila-Matas' universe." Carmen R. Santos, El Imparcial
Synopsis
(Kassel Does Not Call For Logic) A puzzling phone call shatters a writer's routine. The enigmatic female voice on the other end of the line extends an invitation from the McGuffins to come over for dinner and unlock the mysteries of the universe. It soon becomes clear that this is an invitation to take part in the documenta in Kassel, the legendary festival of modern art, where his mission will be to transform himself into a living artistic installation and to sit down every morning to write in a Chinese restaurant on the outskirts of town.
There, the writer is surprised to find himself overcome by good cheer as he strolls through the city, spurred on by the endless supply of energy that beats at the heart of the festival. This is the spontaneous, quirky response of art, rising up against pessimism.
With humor, profundity and a sharp eye, Enrique Vila-Matas tells the story of a solitary man who, roaming the streets amid oddities and wonder, takes it upon himself to translate from a language he does not understand, is swept up in invisible dances, spends a night in his own particular promised land and, finally, finds a place to call home along the way. From his balcony in Kassel, this wanderer helps us see the world anew and reveals the very essence of literature, the true reason to write.
*Chosen as one of the top 10 books published in Spain in 2014 by the critics of ABC.
*Chosen as one of the top 10 Spanish novels of 2014 by La Vanguardia ("A rollicking novel, much more profound than might at first glance appear." Xavi Ayén, La Vanguardia)