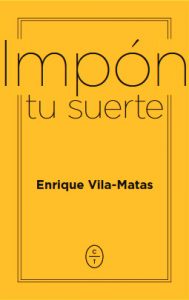 Impón tu suerte
Círculo de tiza, 2018
Press
"An intelligent meditation on the mysterious process of writing interwoven with the life of one of the bravest, most original and rigorous writers of our time." Miguel Cano, El Cultural de El Mundo
Synopsis
(Try Your Luck) Vila-Matas describes what he does in Impón tu suerte as "a genuine crossing of genres that defies borders to explore a liminal space which is nonetheless carefully detailed and recognisable." The book cannot be categorised as a novel, or a collection of short stories, or a diary.
The essence of Impón tu suerte lies in the fact that it occupies such unclassifiable territory. These are texts that convey the idea of their own completeness. No matter how much we may like to catalogue and subdivide, this book is entire in itself and everything in it is connected. Impón tu suerte is the author at his best … reflections on writers and writing, on titles, on states of mind, on art, and always on culture. Vila-Matas offers his lifeblood in measured doses.
This is a guide to an alternative reading of some of the world's literary giants as well as to the hidden, the marginalised and the forgotten. An intelligent contemplation on the mysteries of the writing process, interlaced with the life of one of the most daring, original and exacting contemporary authors of our time.