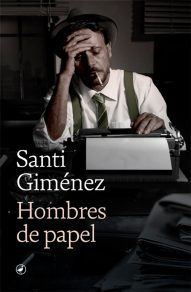 Hombres de papel
Enciclopèdia, 2021 | Paper Men
Synopsis
Three old-school retired journalists meet to spend what ought to be their vacation in Benidorm, a place as out of fashion as they are. What should be days of gluttonous meals and other excesses turn suddenly into a chance to show the world that they aren't as finished as the profession they used to be a part of.
They take off in the company of the most eccentric people you can find in a crusade against the magnate who ruined their careers years back and who symbolizes for them everything bad now occurring in a field they loved so much.
In a world they don't like or pretend to understand, these three paper men are convinced that they can land a story on the front page again, and once more feel proud of being journalists. But the world has changed more than they can imagine.
Santi Giménez offers us a portrait of a journalism now vanished, of friendship, an epic of the loser in this novel that moves, hurts, and sometimes makes you laugh.