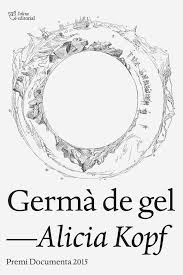 Germà de gel
L'Altra Editorial, 2016
Translations
Croatia, Hena; Czec Republic, Euromedia; France, Laffont; Italy, Codice; The Netherlands, Harper Collins Holland; Portugal, PRH / Alfaguara; Turkey, Nebula; UK, And Other Stories
Awards
- Cálamo Award 2016
- Ojo Crítico Award 2016
- Documenta Novel Award 2015
- Bookseller Novel Award 2016
Press
«A lyrical, braided book, that would sit comfortably alongside the auto-fiction of Rachel Cusk and Sheila Heti, or the non-fiction of Leslie Jamison, blending reportage with the personal.» Lauren Elkin, The Guardian
«At various times, Brother in Ice reads like a diary, a travelogue, a collection of philosophical meditations and a series of historical research notes. The lack of a traditional plot is buoyed by the book's startling pace, which makes for a fresh and invigorating read.» Connor Goodwin, The Washington Post
"An extraordinary debut (…) This is fast, fluid, exciting narrative; random, philosophical, alive, questioning, full of precise set pieces, sensations, regret, emotion, self-doubt, defiance, curiosity and a feel for history, fact and human behaviour. Deservedly praised by a kindred spirit, the Spanish original Enrique Vila-Matas (…) A living book and one to give your most discerning friends: it is a gift rich in sympathy if devoid of sentiment. A book of the year? Looks very much like it." Eileen Battersby, The Irish Times
Excerpts published by Granta, LitHub and Rumpus:
https://granta.com/brother-in-ice/
https://lithub.com/brother-in-ice/
http://therumpus.net/2018/05/rumpus-exclusive-research-notes/
«In another country, this book would have changed the course of history.» Enrique Vila-Matas
«As if by sleight of hand, Kopf displays a wide range of emotions before us. Like the Poles, they are constantly shifting, and inevitably epic.» Agustin Fernandez Mallo, author of Nocilla Dream
«This debut novel has attracted a much-deserved flattering buzz. It is indeed a work that intrigues and grabs attention. The adventures of these die-hards North Pole explorers are for Kopf the starting point towards an equally frozen territory: autism. If this metaphorical approach works so well, it is precisely because it never sinks into something nebulous, instead it seeks to weave the ideal with the rigour.» Elisabeth Barillé, Le Figaro
«Unconventional. A text in which the feats of polar explorers give way to a central autobiographical story about the equally harsh and arid trips through family relationships and within oneself.» Carles Geli, El País
«Among this year's finest releases. This book is all set to become a touchstone.» Nadal Suau, El Cultural
«In an epistolic, polar update of Melville's Moby-Dick, Alicia Kopf's genre-defying book rises as clear and cold as an Arctic sea, floating with ideas that, like icebergs, are buoyed up by meaning and memory below their surface. This is an icy dissection of actuality and history, a frozen etymology of meaning. Slipping from Catalunya to the Ultima Thule, echoing a rapidly changing environment, 'Brother in Ice' deals in personal retrieval and magical supposition in the whiteness of a disappearing world. In the process, it achieves a fugitive poetry all of its own.» Philip Hoare, author of Leviathan
«Through this pages of personal stories and small takes on her family, written with a precise and melancholic writing, Alicia Kopf beautifully cracks the ice that she created around herself, a fragile shell assaulted by the hostility of the world. As the story progresses cautiously towards the release of the paralyzing shackles, this multifaceted text shows the possibility to overcome its inner vortices through literature. (…) Enrique Vila-Matas himself, who Alicia Kopf considers one of her icon writers, has suggested notably that, 'in any other country, this book would have changed the course of History'. Regarding this welcoming, the book has, at least, contributed to the literary global warming.»  Ariane Singer, Le Monde
«A masterful creation on the ice floe, real or metaphorical, confirms Alicia Kopf as one of the strongest voices in contemporary Spanish literature (...) An extraordinary book.» Oriane Jeancourt Galignani, Transfugue
«These explorations are exciting (…) This is strong debut novel and represents the new generation of Catalan authors.» Muriel Fauriat, Pelerin
«So many faces and metaphores about ice to talk about art, dreams, desires and love.» Le Quotidien du Medecin
«This is how and hybrid object is born, the diary of an artist, amongst literature and art explorations (…) A debut novel that has been a huge event in Spain.» Biblioteca Magazine
«A puzzling novel that attracts the reader's attention quickly into an incredible story where the love for an autistic brother mixes with the destiny of a family and the travels to the poles. A true humanist fable.» Au fil des livres
«The talented pen of this Catalan author parts into the hunting of the lost heat, as frozen emotions, desires and relations. The metaphor of the ice makes us hot and cold. Your peak will serve as a bookmark.» Mathias Chaillot, Neon
«A clark shows a clue, then it closes. An emotion appears, then goes back to the immemorial freezing. A stagnation in rupture, the adventure progress, gripping.» 24 Heures
"An encyclopedic tale structured around the epic conquest of the poles and glaciers, which attempts to grasp a separate, private epic: a bildungsroman hidden like a Russian doll in layers of erudition, which illustrates the growth of the protagonist's artistic ambitions in the midst of a family scarred by the parents' divorce and the brother's autism. Kopf's achievement lies in narrating it all in a low tone, without the bluster of the great epics, as the outlines of the promised land appear over the horizon." Carlos Fonseca, Otra Parte
Synopsis
(Brother in Ice) In her first novel, Alicia Kopf traces the faint line between two worlds: that of reality and that of desire, of emotional closeness and vast distance, the outside and the inside, and the unbalance between one and the other.
This is the story of a fascination with ice and an obsession with the poles of the Earth. An attraction for the strictly physical understanding of these extreme zones, its magnetic and climatological functioning - and also a fascination with the epic history of the conquest of polar regions by explorers such as Amundsen and Shackleton. But there are other pieces of ice in this novel: the ice brother of the narrator, the real brother, who lives frozen within himself – a raw and beautiful metaphor for autism-, or the frozen family relationships, a cold living space, full of complexities and silences, even failed love stories.
Extremely self-aware, very insightful and a pleasure to read, this is a lyrical work written with a fresh style that captures the reader from page one with an intelligent and broken voice that can also be  frozen cold.
*Working in conjunction with L´Altra Editorial