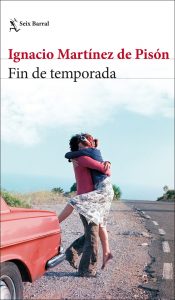 Fin de temporada
Seix Barral, 2020 | Season's End
Translations
Italy/ Società Editrice Milanese
Press
«A powerful novel with a surprising ending. Few Spanish writers can tell a story this such an aparent simplicity and extreme care for details and atmospheres.» J.M. Pozuelo Yvancos, ABC
Synopsis
A road along the Portuguese border, June 1977. Juan and Rosa, little more than adolescents, have an appointment in a clandestine abortion clinic, but an accident keeps them from reaching their destination. Almost twenty years later, Rosa and her son Iván begin what will be their life's project, the restoration of a campground on the Costa Dorada on the other end of the peninsula. Since Iván was born, they have lived in different places, always tentatively, always alone, fleeing from a past that will soon catch up with them.
Season's End is a novel about the sometimes venomous strength of blood ties, about family secrets that condemn every generation to repeat the same errors, and about how knowledge transforms us into other people.
Ignacio Martínez de Pisón creates memorable characters here in an extraordinary tale of mother and son that extends across nearly a quarter of a century, revealing to us how things unresolved in the past can trap us despite, or even because of, our attempts to ignore them.