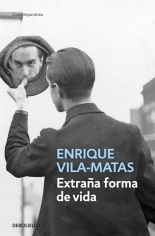 Extraña forma de vida
Anagrama, 1997; PRH/DeBolsillo, 2013
Translations
(France, Bourgois, 2000 / Pocket, Titres, 2009); (Germany, Nagel & Kimche, 2002); (Portugal, Assirio & Alvim, 1995); (Russia, Inostranka, 2005)
Synopsis
(Strange Way of Life) Being a spy is the loneliest profession, but it is also the most exciting in the world. The person who takes on this job has to be prepared to – strange way of life – shake off those who are chasing him using the well-known zigzag method, jump from moving taxis in front of the underground entrance, work to find an unknown goal, carry the disappointment of failure in their job, know how to run but also how to be still, stay for hours watching a window. The person who becomes a spy has to be prepared to – strange way of life – pursue certain truths that are hidden among things and are difficult to reach.
In the same way as spies, writers also pursue hidden goals and have to reach beyond appearances. There is something of the voyeur in them, since almost all of them spy a little bit on life through the keyhole. So the way of life of Cyrano, the writer in this novel who has spent years spying on everyone, is also strange. He spies for example on his father, who talked to rats and to the voices of the subsoil; on his grandfather, who at the end of his days was also an unmitigated voyeur; on his unpleasant neighbours; but also on artists like Graham Greene and Salvador Dalí. Actually, he spied on anything that moved, which only goes to confirm how endogamic the relationship between espionage and literature has always been.
Extraña forma de vida is also the title of a 'fado' by Amalia Rodrigues – a song that brings back memories to the writer of this novel (who is a tenacious follower of other people's lives; a kind of hobby detective, a total spy, a storyteller) of the most important day of his life, when he had to choose between eternal and passing love. He writes obsessively about that day, and our man now only lives to – strange way of life – endlessly remember that day, which was so decisive for him.
(Spain, Anagrama, 1997 / Pocket, Quinteto, 2008)