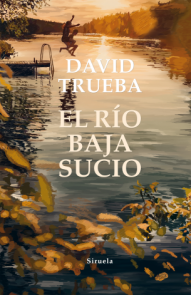 El río baja sucio
The River Runs Dirty | Siruela, 2019
Synopsis
Two friends, a polluted river, and a holiday that will change their lives forever.
"I bet you're one of those people who think they know what a corpse looks like. Even though you've never seen the life drain from a body at the moment of death. I bet you think you know the look of a murderer. Even though you've never locked eyes with one. I bet you're convinced you'd be able to pick out the one in a thousand who would one day take another's life. I was like you not so long ago, five or six years back, when what I'm about to tell you took place. I'm nineteen now and nothing like that kid who was nearly fourteen then."
Tom and Martin's Easter holidays are usually fairly predictable. They spend time in the mountains with their families, friends, bikes, the river, the great outdoors ... Nothing too memorable happens except meeting up again and enjoying the friendship that has united them since infancy.
But now, almost fourteen years old – and in what looks like being their last holiday together – fate has something in store that will change how they see the world forever. First they meet the mysterious man who lives in a house called Los Rosales and then his daughter Danae. The arrival of both on the scene sends shockwaves through the lives of the two friends, precipitating them into hitherto unknown territory where they find out that growing up means a loss of innocence. While the adults carry with them a painful past that will not let them go, the young begin to build lives and futures of their own.