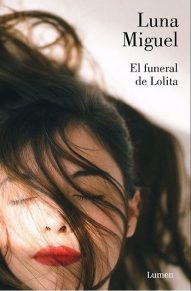 El funeral de Lolita
Lumen, noviembre 2018
Press
«There is in this Luna Miguel's love story, sometimes physiologist and sometimes romantic, a background of true pain and rage. She strongly intuits vital despair and she approaches with lucity and courage to the diseases of the soul. A narrator with a future.» Santos Sanz Villanueva, El Cultural
«She flips Lolita's myth by revisiting it from the other side of the mirror.» David Morán, ABC Cultural
"From this universe, Luna Miguel fashions verses that would never occur to those of my generation, the preceding one or the one that came after, but which are nonetheless the language we best understand." Vicente Verdú, El Boomeran(g)
"One of the most authentic and committed voices of her generation. A novel full of strong images, humor and sharp reflections." Laura Ferrero, ABC Cultural
"The poet of the body, portraying a stark reality." Mariana Rosas, Cultura Colectiva
"Luna Miguel has a penchant for provocative material." Trevor Barnett, Poetry Society
"A mainstay of contemporary Spanish poetry." Álvaro Colomer, Yo Dona
"Luna Miguel is the standard-bearer of Europe's resurgent poetry scene." Thomas Deslogis, Actualitté
"Her literary approach, like that of a cool-hunter, has shades of Heraticlus: everything flows, everything changes, and it must be captured in the instant." Alberto Fernández Otto, El País
"Luna Miguel needs no introduction. She is one of our youngest and most prized cultural assets." Tendencias Fashionmag
"Journalist, blogger, novelist, translator, poet... A writer at home in any genre, though always with her own personality." Glamour Magazine
"Luna Miguel writes like one determined to "say with rage what ought not to be said." El Cultural de El Mundo
"Combining an original sense of humour with off-beat ideas and imagination to spare." Vogue
Synopsis
(*Working in conjuction with PRH)
(Lolita's Funeral)
The much awaited debut from the influential, controversial poet and journalist.
"I'm not even sure if you're still alive, but I had to tell you: Roberto died this morning in..." Helena reads the message from Rocío, her former classmate, and her heart skips a beat. Much like the day on which she realised she had fallen in love with her literature teacher. Now, the time has come to face up to his death and her memories. Helena is no stranger to death (she has lost her parents, in very different circumstances), but Roberto's passing will awaken all the old ghosts.
Waiting for her at the funeral home is not only Rocío, to whom Helena handed over her diary many years ago, but also Laura, Roberto's widow, who insists on inviting her home. A young, widely acclaimed and controversial restaurant critic, Helena is well used to analysing, recommending and denouncing flavours and dishes, but is at a loss when it comes to her own life. In the Alcalá de Henares of her birth, far from the magazine where she plies her trade and from her partner, as memories assail her from all sides and her stomach churns, she will have to make up her mind.
Lolita's Funeral bears witness to Luna Miguel's tremendous gift for choosing the right word, the hallmark of her poetry, and reveals her to be a magnificent storyteller.