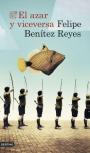 El azar y viceversa
Destino, 2016
Press
«Reads like Borges, Kipling, Chesterton or Nabokov,that is, like a classic.»
Fernando Iwasaki, Mosaico (Chile)
«Imagination, ingenuity, excellent narrative rhythm and the ability to produce reality reflected through concave mirrors, all that makes this a fun and joyous reading as well as a literarily stimulating experience.»
Ana Rodríguez Fischer, El País
«He is the owner of the most brilliant, most personal, most enviable and also the most envied prose of all writers of his generation.»
Almudena Grandes, El Mundo
«A splendid novel.»
Juan Marsé, Milenio
«A narrative work of radiant personality.»
Juan Bonilla, Mercurio
« A prodigious literary talent at the height of his powers. Classicism seen through the prism of modernity.»
J.M. Caballero Bonald, ABC
Synopsis
A novel that mixes action and reflection, comedy and drama, throughout a fantastic series of adventures with a classic picaresque spirit and yet a fully contemporary setting.
In the best picaresque tradition, the hero tells about his life, performing different crafts, serving many masters (more or less dishonest), resorting to tricks and traps out of sheer necessity and living all kinds of adventures, sometimes blighted and sometimes successful.
The author creates a dazzling protagonist: a contemporary hustler, optimistic, melancholic, small time womanizer, a moderately educated reader, squire to some petty Don Quixotes and owner of an unshakable will to move forward despite the low blows of chance.
Throughout its pages there is no phrase out of tune, nothing accessory or gratuitous. The novel is governed by a Dickensian spirit that shows not only in its tone but also in the presentation of the many characters who roam the plot and in the polished and quintessential colloquial language. As stated by Fernando Iwasaki, "Benitez Reyes reads like Borges, Kipling, Chesterton or Nabokov, that is, like a classic." (El azar y viceversa, Felipe Benítez Reyes).