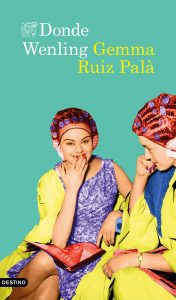 Ca la Wenling
Proa, 2020 | Wenling's Home
Translations
Spain/Destino; Italy/Voland; UK/Héloise Press
Press
"Gemma Ruiz has taken us totally by surprise with her literary debut. An extraordinary, almost perfect first novel." El Mundo
"Ruiz is simple and direct, sincere and natural… and wise enough to move us cautiously and to never weary the reader." El País
"A novel open to the world. The characters's stories dominate the narrative, while unfolding different aspects of femininity such as family, work or the gaze on the other. Both the narrator and Wenling are enthusiastic about the future. And that enthusiasm comes through the life of the neighborhood. In a certainly idealized but respectful way, it updates the view on a multicultural neighborhood and offers the story of a friendship." Julià Guillamon, La Vanguardia
"The prose is electric, like an artisan turning molten glass to give it form. Gemma Ruiz possesses an incredible instinct for digging up high-voltage stories." Najat El Hachmi
Synopsis
Someone from the other end of the planet decides to live in your country. Chooses you as a neighbor. Wants their children to grow up in your language and love the things you love. And works in a hair salon twelve hours a day, six days a week, bent over your feet, your hands, and your hair, while being generous enough to explain to you how their world is.
There is a lot here about Wenling's China. A lot about the Zhejiang Province she came from one day ten years ago. But in this place where they do manicures, haircuts, and perms, there is also the aroma of elsewhere. And retirees from Barcelona's Gràcia neighborhood, stubborn youngsters, a pregnant woman in love, tears from the Vietnam War, French cosmetics, injustices forged in America, and deep-seated racism.
That's why it's called Wenling's Home: because the modest exterior conceals an enormous reserve of humanity, a catalyst for shared confidences, the unearthing of tragedies, and big bursts of laughter. A center for exchanging affections, as necessary to the neighborhood as the clinic, the school, or the market.