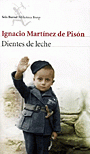 Dientes de leche
Seix Barral, 2008
Translations
(Alemania, Hoffmann und Campe); (Brasil, Record); (Francia, Le Serpent à Plumes); (Holanda, Signature); (Italia, Guanda); (Portugal, Teorema)
Awards
- Premio de narrativa "Arzobispo Juan de San Clemente"
- Premio Giuseppe Acerbi 2012 por la edición italiana de Dientes de Leche (Il Fascista)
-Libro de la semana en Babelia, El País
-Elegida por los críticos de El Cultural como uno de los 10 mejores títulos de ficción del 2008
-Único autor no italiano finalista del premio Acqui Storia por la traducción italiana titulada Il Fascista (Ugo Guanda Editore, 2010)
Press
«Dientes de leche es una novela pura (…) tiene un fundamento histórico que los libros de historia evocan sólo cuando practican historia oral.» Jordi Gracia, El País
«Pisón es uno de los mejores dotados contadores de historias del país.» Enrique Vila-Matas, El País
«Sin duda su mejor novela.» José María Pozuelo Yvancos, ABC
«Fascinante novela.» J. A. Masoliver Ródenas, La Vanguardia
«Cronista y narrador honesto. Un realista interesado en la verdad y la realidad.» Katharina Döbler, Book Reporter
«Lo interesante en sus historias es cómo la guerra y la dictadura afectaron en el ámbito privado de la sociedad española de aquella época.» Franfürter Allgemeine
Synopsis
(Milk Teeth) Spain,1937. Raffaele Cameroni, an Italian volunteer fighting on Franco's side during the Spanish Civil War is injured in combat. In hospital, he will meet a Spanish nurse who will become his wife and mother to three children. However, Raffaele is hiding a secret which will end up exploding with unforeseen consequences. Milk Teeth takes us through half a century of the life of the Cameroni family, its ups and downs, generation gap conflicts, tender episodes and family secrets against the backdrop of the final years of Spanish dictatorship.
(Spain, Seix Barral / Pocket, Booket / Club, Bertelsmann)