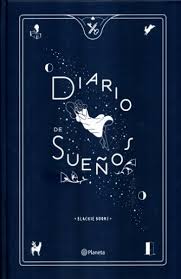 Diario de sueños
Blackie Books, 2017
Translations
Latin America: Planeta México / Brazil: Planeta Brazil / Italy: Rizzoli / The Netherlands: Xander / Portugal: Saida de Emergencia / Turkey, Pegasus / UK: Quercus
Awards
**An international bestseller**
Synopsis
Dreams can be a map of the things we want in the future, they can cure past neuroses and help us to understand the present. That's why they are so important. That's why they can be critical to our lives. That's why it is worthwhile and fun writing them down – to tell ourselves who we are and how we want to be. Dreams are also proof that we are all novelists and filmmakers; great tellers of unpredictable, tragic, funny and magical stories. When we sleep. When we dream.
Diario de sueños is a personal secret diary. It is a guide to drawing, outlining and identifying the motives and reasons behind the stories that you experience each night. But mostly, it is like a writing manual that allows you to put down on paper the ultimate diary, one that comes from the fears, desires and joys that inspire your dreams. It also works as a guide to understanding them and understanding yourself.
Diario de sueños is unique. Like your dreams. Like you.