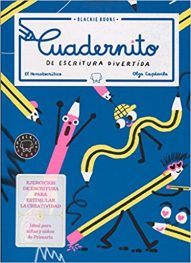 Cuadernito de escritura divertida
Blackie Books, 2018 | Fun Writing Activity Book
Awards
** An instant bestseller **
Press
"A book with a big sense of humor and a very attractive design in which the authors invite children to launch themselves into writing through fun proposals that encourage creation." La Vanguardia
Synopsis
(Fun Writing Activity Book) by El Hematocrítico and Olga Capdevila
Ilustrations by Olga Capdevila
Writing is imagining and imagining is fun. The first Fun Writing Activity Book for children and the most coiled teachers. It has been created specifically for primary school children as a way of learning through imagination, humour, and sheer fun.
It contains a comprehensive collection of wri-ting exercises that are very similar to the ones assigned in schools nowadays, but with a different approach. We don't care if they use accents, commas or full stops accurately, terribly or just passably. And we don't care about their spelling mistakes either. Although all these things are important, the aim of the CUADERNITO is to encourage children to write and to have fun.
The authors: El Hematocrítico is the artistic alias of Miguel Ángel López González, a teacher who uses fantasy and playfulness to teach. He is the author of several books for children, several of then international bestsellers like Feliz Feroz. Olga Capdevila is an awarded illustrator and her works are perfect to inspire and encourage overflowing imagination.