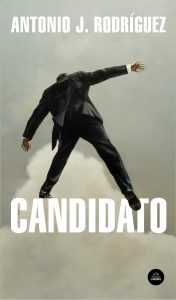 Candidato
PRH, 2019 | Candidate
Press
«CANDIDATO is one of the best novels of its generation. Antonio J. Rodríguez creates a formidable portrait of an unforgettable character that embodies to perfection our current politicians. The book immediately recalls Michel Houellebecq and Virginie Despentes and there are a lot of subversive, surprising and politically incorrect ideas to be found in it.» Alberto Olmos, El Confidencial
«A work about our current political reality written with genuine power and incisive nature. It fearlessly tells hard truths and faces a delicate matter with courage.» Santos Sanz Villanueva, El Cultural
Synopsis
A political novel about ambition, vanity and the inner workings of the institutions of power. It is also an essay on freedom, progress and gender identity in today's society.
Rania Al-Jatib and Simón Soria meet at an academic conference in Jerusalem. She is a young, feminist filmmaker of Palestinian origin who has fled Islamism, violence and oppression; he is a professor of politics who is tired of his career and has been side-lined because of his unfashionable ideas. Their unfolding relationship leads to increasing amounts of time spent in the air between their respective homes in Paris and Madrid and to both their lives being turned upside down.
Through Rania, Simon comes into contact with the leadership of the brand new Spanish Democratic Party. In the feverish months running up to elections, they find in him a way to revitalize the founding tenets of conservatism.
In glittering journalistic prose, the novel tracks the scandalous twists and turns of a campaign tarnished by betrayals, unexpected ghosts from the past and the emergence of a sex tape. This is socio-political satire that ranks alongside Reza's Dawn, Dusk or Night: A Year with Nicolas Sarkozy  and Houellebecq's Submission.