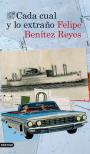 Cada cual y lo extraño
Destino, 2013 | The Self and the Other
Awards
***Chosen as the Best Book of Short Stories of 2013 by El País' readers***
Press
"Cada cual y lo extraño is a book packed to the rafters with memorable characters, written with the deftness of a master of the literary craft." Juan Bonilla, Mercurio
"The stories gathered together in Cada cual y lo extraño showcase humor and parody. A delightful read and an experience to be wholeheartedly recommended." Ana Rodríguez Fischer, El País
"The best literary quality, an eclectic narrative pace, charming characters and a caustic view of human relations - all attest to the excellence of this delicious and disturbing book." Jesús Ferrer, La Razón
"An extraordinary new book. A collection of stories by an author who has mastered the rare gift of balancing  heartbreak, verbal excellence and human wisdom. Run to the nearest bookshop now." Carlos Marzal
"This latest collection shores up his reputation as a magnificent storyteller, as well as testifying to the commitment of a major publishing house such as Destino to this type of book, (…)" Daniel Heredia, El Independiente
"Well-travelled tales, shifting settings that set the reader's compass spinning in search of adventure. An exercise in literature that devours geography." Eva Díaz Pérez,  El Mundo.
"All told in the nimble, impassioned style of the author." Andrés González-Barba, ABC.
"The tone hovers somewhere between down-to-earth and biting humour, when the reader turns the page and is pulled up short mid-paragraph." Pepe Lugo, La Razón.
"Now is also the time to hail the return to fiction of an outstanding writer, Felipe Benítez Reyes, who has just released an excellent short story collection, Cada cual y lo extraño." Almudena Grandes, El País.
"(…) a collection of twelve stories (…) in which the author's profound humanity and exquisite, and in turn accessible, humour, are the touchstones of a volume brimming with enthralling tales  (…) A superb book, bringing together his profound humanity and his brilliant, clear-eyed prose, with flourishes of great beauty, that manage to hook the reader from the very first page." Todoliteratura.es
"(…) A collection of stories that make for a most enjoyable read (…) within an enclosed setting that only a writer with his sureness of touch can pull off." Ricardo Senabre, El Cultural
"Cada cual y lo extraño leaves behind a lingering sense of delight that invites the reader to revel in the word craft, the musicality of the language." Fernando Iwasaki, Revista de Libros, El Mercurio de Chile
"A collection of images set to live long in the memory": Óscar Mora, Diario Información
"A magnificent almanac from an outstanding teller of tales. Twelve months bring with them twelve stories about the ages of man." Javier Goñi, El País
Synopsis
(The self and the Other) is a collection of twelve short pieces arranged in the form of an "almanac of stories". Benítez Reyes offers up one story for each month of the year,  set against the backdrop of events specific to the date in question: January and the Three Wise Men; February and the second batch of sales; March and a belated carnival; April and an unexpected turn of events; May and exams have rolled around; June and Midsummers Night; July and a holiday aboard a cruise liner; August and teenage love in the movie theater; September and military exploits in an intellectual guise; October and the harbingers of doom; November and a performance of Don Juan Tenorio, and, last but not least, December and an ill-timed company dinner.  Each story is tinged with humor and, at the same time, carries a sting in the tail, with the sense of the absurd and of wonder that are the hallmarks of this author's unique take on the world.