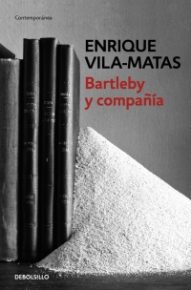 Bartleby y compañía
Anagrama, 2000; Seix Barral, 2015; PRH/DeBolsillo, 2016
Translations
Brazil / Cosac Naify; Bulgaria / Panorama; China / Yuan Lion - Chinese Complex / Horizon - Chinese Simple; Croatia / Naklada Pelago - Bozicevic; Czech Republic / Garamond;  Denmark / Politisk Revy; Finland / Basam;  France / Bourgois / Pocket, Titres; Germany / Nagel & Kimche / Pocket, Fischer Verlag; Greece / Kastaniotis; Hungary / Geopen; Italy / Feltrinelli;  Japan / Sincho-Sha; South-Korea / Sodam; Lituania / Alma Littera; The Netherlands / De Bezige Bij; Norway / Solum; Poland / Muza; Portugal / Assirio & Alvim; Romania / RAO; Russia / Inostranka; Serbia & Montenegro / Plato; Slovenia / Beletrina; Turkey / Dogan Kitap; UK / Harvill Press / Pocket, Harvill; USA / New Directions
Awards
-Prix du Meilleur Livre Étranger.
-Ciudad de Barcelona Prize
-Prix Fernando Aguirre-Libralire
-Best Spanish Novel of year (Reforma, México)
Press
«A brief walk, written in the form of footnotes, through the abyss and frenzy, not merely of literature (…) but of life itself.» Roberto Bolaño
«There can be no better example of Vila-Matas' take on literature than Bartleby and Company.» Antonio Tabucchi
«A writer with an extraordinary imagination.» Mathieu Lindon, Libération
«The best active storyteller.» Rodrigo Fresán, Página 12
«The most important Spanish living author.» Bernardo Atxaga, El Dominical
Synopsis
(Bartleby & Co)
-  Mister Rulfo, why haven't you written anything for so many years?
- It's just that my Uncle Celerino died, and he's the one who told me the stories.
This book talks about people who stop writing (Rulfo, Rimbaud, Salinger…) and looks for the reasons why each of them would prefer not to.
We all know the bartlebys – they are those who inhabit a profound negation of the world. They take their something about his life, responded simply: "I would prefer not to".
In Bartleby y compañía the endemic disease of contemporary letters is talked about; the negative pulse or attraction to nothing. The book's narrator, writing a diary which is, at the same time, a notebook of footnotes commenting on an invisible text, shows his ample solvency as a tracker of Bartlebys when passing through the 'Maze of No', along paths considered to be the most perturbing and attractive trend in contemporary literature – a trend in which he sees the only path that remains open to true literary creation, because for him only from the negative pulse of rejection, only from the lucid Maze of No can future writing emerg.