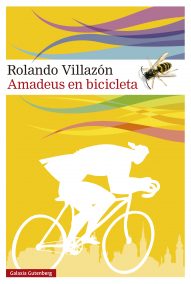 Amadeus en bicicleta
Galaxia Gutenberg, 2021 | Amadeus by Bike
Translations
France/Philippe Rey; Germany/Rowohlt
Synopsis
With his second novel, Rolando Villazón not only proves that his carreer as a writer is in for the long run bur offers a captivating work, and one of the most beautiful homages to Amadeus and the city of his birth.
The city of Salzburg experiences hectic days at the start of its Festival. On the streets, one can run into Cecilia Bartoli, Anna Netrebko and other music stars. The young Mexican Vian Mauer is also there, knowing that it is his last chance to make a dent in the world of opera. So far, he has only landed a small role as an extra in Mozart's Don Giovanni. But it does not falter.
Vian admires Mozart and reads everything that falls into his hands about the composer. Tour Salzburg and discover the magic of the city of festivals. But he has to face the envy and betrayal of those who want to become something in the ruthless world of show business, where only very few can rise to the top.
During rehearsals, Vian will meet Julia, and together they will bicycle through Salzburg, wearing white wigs in the classic Mozart style… But the sudden arrival of Vian's father the night before the debut performance threatens to bring the fairy tale to an end. He hopes to drag his son out of the bohemian theater world. Vian, though, has other plans…
A novel of failure, but also of the joy of living, written by one of the great tenors of our time and a voracious reader, Amadeus on a bicycle is a call to pursue one's dreams. With a lot of humor and unforgettable scenes, Rolando Villazón creates a character that can only be loved. While erecting a tribute to the best composer of all time and his hometown.