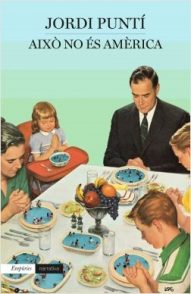 Això no és América
Empúries (català), 2017/ Anagrama (Castellano), 2017
Translations
US / Simon & Schuster - Atria
Press
«Jordi Puntí is not only Catalonia's most important writer, but he is also one of the funniest, most perceptive writers in all of Europe. This Is Not America is a tour-de-force story collection set on both sides of the Atlantic.» Gary Shteyngart
«A book of great richness and variety and an unusual subtlety that stands on a point of tension between direct and easy readability and a conceptual and formal depth. Puntí reaches with these stories an extraordinary maturity at human, intellectual and artistic level.» Sam Abrams, El Mundo
«With only four books published, Puntí is a cornerstone in the current Catalan literature. His characters have grown and become middle-aged losers; passive and grey, yet good-natured, they fall in love easily, they are masterfully written and deeply human.» Vicenç Pagès Jordà, El Periódico
«The complex situations in these short stories are turned into simple images thanks to the elegance of a measured prose.» Ponç Puigdevall, El País
«An excuse to re-encounter with the most lively and stimulating sensations we can ask for when reading.» Sergi Pàmies, La Vanguardia
"With this book Puntí arrives at a definitive new understanding of the emotional aspect so often denied by the literature of the 90s and gives himself free rein to explore the limits of auto-fiction. Este no es América [This is not America] can be read as an inventory of beautiful losers and as a treatise on the strangeness of the everyday." Borja Bagunyà, Serra d'Or
"Jordi Puntí collects lives, at first familiar, suddenly extraordinary. These tales of wild existence, unfolding off the beaten path, capture the rare spirit of a wondrously diverse, privately performed pageant. Puntí is the perfect writer to hold close through these imperfect times." —Samantha Hunt
"An assured collection of stories about men trying to connect with the world through convoluted, excessive means. Their settings might be firmly rooted in the domestic, but the nine stories in Catalan writer Puntí's collection read as though they are arriving from another world or being broadcast from a chillier, dystopian future... Subversive stories in which the simplest interactions have dark preoccupations roiling underneath." —Kirkus Reviews
"Puntí is clever without ever being saccharine, literary in choice of phrase without ever being obtuse—always a joy to read." —New York Journal of Books
"[A] thoughtful collection of short stories from Catalonian writer and translator Puntí . . . . The stories make for a consistently pleasant reading experience." —Publishers Weekly
"Searing short stories... Puntí is unafraid to explore the uncomfortable rifts of his characters' lives, particularly the lies they tell themselves to embolden or confront their justifications of their situations." —Booklist
Synopsis
(This Is Not America) Fifteen years on from Animals Tristos, Jordi Puntí returns with a short story collection that bears witness to his evolution in style and subject matter over time. Here are nine tales of adulthood, exercises in heartbreak, portraits of characters on the run and outsiders in search of their place in the world.
There's a man who recalls a past love as he strolls through the streets of Barcelona, his footsteps tracing a letter. There's a hitchhiker bearing a briefcase on the outskirts of the city of Vic. There's Gori, who, in a village in northern Catalonia, receives letters from a long-estranged brother. Then there's the man who wants to surprise his wife with a trip to Paris, only to swap it for a solitary cruise on board a ship on which Sam Cortina is performing. There's the astonishing story of Mike (formerly Miguel) Franquesa and his curious relationship with casinos. And finally, tying up all of the loose ends, there's the writer making his way to Nancy, where, to the delight of the reader, he will complete his work as a traveling salesman of stories...
A collection of wonderful stories about characters on the run and rogues searching for their place in the world.
** ENGLISH SAMPLE TRANSLATION AVAILABLE**