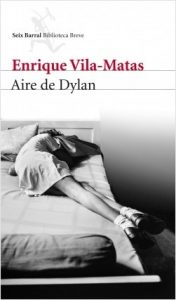 Aire de Dylan
Seix Barral, 2012
Translations
(Brazil, Cosac Naify); (Croatia, Bozicevic); (France, Bourgois); (Italy, Feltrinelli); (Portugal, Teodolito); (Romania, Allfa)
Awards
-Selected in La Vanguardia as one of the best 10 books published in Spanish in 2012.
Press
"Aire de Dylan is, without doubt, one of Enrique Vila Matas' greatest achievements. In this novel his obsessions, his gaze and his intelligence are all magnified. He has an inimitable way of celebrating literature whilst creating it." Alexandre Fillow, Livres Hebdo
"Aire de Dylan is a novel that is funny, wise, sarcastic, sophisticated and melancholy, and many other things besides. It has a freedom of tone and style and shows supreme intelligence in terms of the aesthetic, formal codes of the novel, something we would like to see more of in this genre that follows the noble path of thought in motion." Bernard Fauconnier, Le Magazine Littéraire
«An ironic and parodic literary labyrinth made with truth and lies. Vila-Matas succesfully chases after failure in his new experimental novel.» Florence Noiville, Le Monde
«Vila-Matas' latest novel explores new routes and marks a turning point for his writing and does so, moreover, without abandoning his usual reflections on literature.» Jordi Gracia, El País
«A highly singular, surprising novel.» J. A. Masoliver Ródenas, La Vanguardia
"Vila-Matas has produced an enjoyable plot sustained over a well-woven structure, developing an intelligent critique, at once sharp and endearing, of our snobby modern times. Lively dialogue, comic situations, symbolic scenes and writing of the highest quality complete this notable and significant novel." Jesús Ferrer, La Razón
«A self-critical, ironic and very serious revision of his own trajectory and, in particular, of the Vila-Matian image as the paradigm of the post-modern, meta-literary writer. Vila-Matas continues to knock down the interior walls of artistic consciousness.» Domingo Ródenas, El Periódico
«Only Vila-Matas is like Vila-Matas.» Elena Hevia, El Periódico
«Without doubt the most daring, intelligent and innovative author of contemp"You can find pitiless humour and the highest literature." Laura Fernández, El Mundo
«Aire de Dylan is a story of philosophical importance, written from within the author's devastatingly cultured intelligence. With generous doses of irony, Vila-Matas elaborates a troubling, non-conformist vision of our world that is at once original and brilliant.» Santos Sanz Villanueva, El Cultural de El Mundo
Synopsis
(Dylan's Air) An narrator well-versed in the culture of hard work and who regrets being so prolific is shocked when he meets some sceptical youngsters – the Oblomovs – who, faced with the global crisis, have decided to step back, not to take part in anything, and to found the subversive Dylan's Air society, which aims to capture the true essence of the soul of the period, the air of our time. A book about the law of work, as opposed to the art of doing nothing, and the dialectic between the culture of hard work and the ideology of indolence.
-5th  Reprint!
(Spain, Seix Barral / Pocket, DeBolsillo)