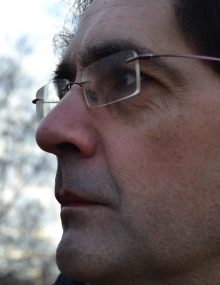 Vicenç PAGÈS JORDÀ
© Berta Pagès
Vicenç Pagès Jordà has penned over a dozen works, taking in everything from short stories to essays and novels. He is the recipient to the National Catalan Culture and Arts Prize to his career as a writer.
Among his works, one should mention: his debut novel, El món d'Horaci (Empúries, 1996 – and a 20th anniversary edition, Proa, 2016), Carta a la reina d´Anglaterra (Empúries, 1997), En companyia de l´altre (Edicions 62, 1999, Documenta Prize), La felicitat no és completa (Edicions 62, 2004 – Sant Joan Award), the bestselling novel Els jugadors de Whist (Empúries, 2009 – Creixells Award), Dies de frontera (Proa, 2014 – Sant Jordi Prize), Robinson (Empúries, 2017), and the anthology of stories Exorcismes (Empúries, october 2018).
His latest published work is a very personal collective memoir: Memòria Vintage (Empúries, 2020), that starts in 1969 with the Man on the Moon and ends with Pulp Fiction's 1994 release.