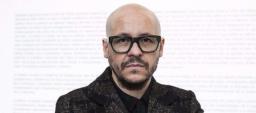 Valentín ROMA
Ripollet, 1970
(*Working in conjuction with Editorial Periférica)
Valentín Roma (Ripollet, 1970) is doctor in Art History and Philosophy by the University of Southampton. He currently lives in Barcelona where he is the director of La Virreina Image Centre Museum.
Formerly, he was a professor of Contemporary Artistic Theories at the UAB (Autonomous University of Barcelona) and at ELISAVA school. He has been curator for Barcelona's Contemporary Art Museum (MACBA) and commissioner for several Contemporary Art exhibitions at the Picasso Museum, the Tàpies Foundation and Caixaforum in Barcelona; at the Venice Biennale or Stuttgart's Kunstverein.
He is the author of Rostros (Periférica, 2011), a work halfway between fiction and essay. El enfermero de Lenin (Periférica, 2017) is his first novel.