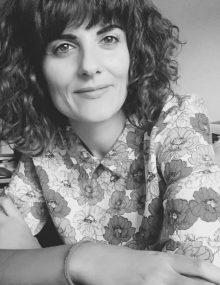 Rosario VILLAJOS
Córdoba, 1978
Foto © José Martín S.
Rosario Villajos (Córdoba, 1978) dedicated her childhood exclusively to drawing, reading and watching movies. Trained in Fine Arts, she has worked in the music, film, artistic and hospitality industries. She became known on the networks for her drawings made with hair in the shower. Much of her artistic work bears the mark of the ephemeral and eschatological, which cannot be recycled or restored.
Her first published work was the graphic novel Face (Fanfare, 2017), followed by the novel Ramona (Mrs. Danvers, 2019). Her last novel is The Tooth (Aristas Martínez, 2021).
«In her writing there is the site of a generational memory from which disenchantment, cynicism and late re-politicization have emerged (…) the conversion of the everyday (no, better: of the eschatological, excremental, or simply corporal) into beauty contemporary, that is to say: ironic, mild, obsolescent. With Aixa de la Cruz, they share very lucid notes on the discovery and overcoming of the dynamics of power and resentment.» Nadal Suau, El Cultural