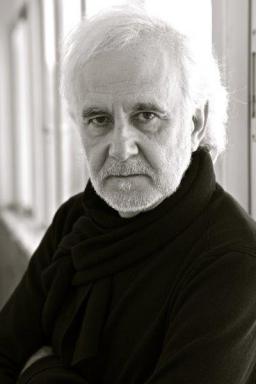 Ramón ANDRÉS
Pamplona, 1955
© Carles Escur
Ramón Andrés as well as a translator and poet, is one of the leading essayists on Spain's contemporary scene, thanks to the depth of his knowledge of the humanities and his original approach to critiquing History and the Western tradition. His essays stand out for their distinctive, pared down, literary style, rich in conceptual overtones and which, at one and the same time, speak directly to the reader. He plied his trade as a professional musician in his younger years, performing a vintage repertoire across Europe, a training that has left him well placed to tackle History from the unique standpoint of the language of music. In 2015 he was awarded the Príncipe de Viana Culture Prize for his entire body of work.
He has published several volumes of poetry: Imagen de mudanza (Pamiela, 1987), La línea de las cosas (Hiperión, 1994 – Ciudad de Córdoba Prize) and La amplitud del límite (DVD, 2000), a collection of aphorisms, Los extremos (Lumen, 2011) and a volume of his collected poems Poesía reunida (Lumen, 2016).
Noteworthy examples of his extensive non-fiction output include: Tiempo y caída. Temas de la poesía barroca (Quaderns Crema, 1994), Johann Sebastian Bach. Los días, las ideas y los libros (Acantilado, 2005 – Ciudad de Barcelona Prize), El oyente infinito. Reflexiones y sentencias sobre música (De Nietzsche a nuestros días) (DVD, 2007), El mundo en el oído. El nacimiento de la música en la cultura (Acantilado, 2008), Diccionario de instrumentos musicales. Desde la Antigüedad a J. S. Bach (Península, 2009), No sufrir compañía. Escritos místicos sobre el silencio (siglos XVI y XVII) (Acantilado, 2010), Diccionario de música, mitología, magia y religión (Acantilado, 2011), El luthier de Delft. Música, pintura y ciencia en tiempos de Vermeer y Spinoza (Acantilado, 2013), Semper dolens. Historia del suicidio en Occidente (Acantilado, 2015 – Estado Crítico Prize), Pensar y no caer (Acantilado, 2016) and his most recent work Claudio Monteverdi. 'Lamento della Ninfa' (Acantilado, 2017).
"Thanks to the profundity of his thought and the literary beauty with which it emerges in the written word, the name of Ramón Andrés has long since ceased to be associated with a cult author." Manuel Barrios Casares, El Cultural