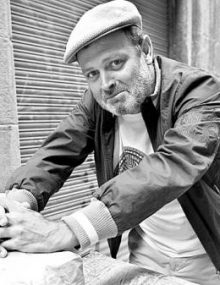 Pablo CARBONELL
Cádiz, 1962
Pablo Carbonell (Cádiz, 1962) is one of the most influential figures on the Spanish art and music scene today.
Since settling in Madrid in the early eighties, he's worked as a cartoonist, singer (as a solo artist and with Los Toreros Muertos), film director (Atún y Chocolate), and actor of stage and screen.
Carbonell published his memoir, El mundo de la tarántula (Blackie Books, 2016) to great acclaim and he debuted with the novel Pepita (Destino, 2019).
His latest novel is El nombre de los tontos está escrito en todas partes (Contraluz/Anaya, 2021).
«I like the kind of humour that sticks two fingers up at bad behaviour and enjoy the roar of laughter that can startle power. I love everything that radiates humanity and loathe anything that spreads unnecessary pain.» Pablo Carbonell