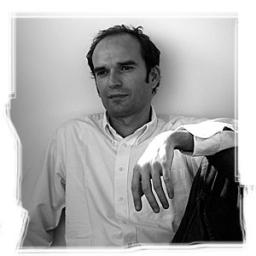 Nicolás CASARIEGO
Madrid, 1970
© Sira Casariego
Nicolás Casariego is author of the novel Dime cinco cosas que quieres que te haga (Espasa Calpe, 1998), the books of stories La noche de las doscientas estrellas (Lengua de Trapo, 1999) and Lo siento, la suma de los colores da negro (Destino, 2007) and the essay Héroes y antihéroes en la literatura (Anaya, 2000). In addition, he has published stories in various anthologies and newspapers, travel articles for El País and El Mundo, and is co-scriptwriter of several feature films.
Cazadores de luz (Destino, 2005), his second novel, was finalist for the Nadal Award 2005. He is also author of the children's series Marquitos detective (SM, 2007), Marquitos caballero (SM, 2009),  Marquitos ladrón (SM, 2012) and Marquitos vampiro (SM, 2014).
After the novel Anton Mallick quiere ser feliz (Destino, 2010), his latest title is Carahueca (Temas de hoy, 2011), a movie tie-in book of the screenplay he co-wrote for Clive Owen's project, Intruders. The film has been directed by Juan Carlos Fresnadillo and produced by Universal Pictures.