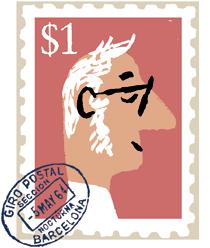 Miguel GALLARDO
Lleida, 1955
ANIMAC CAREER AWARD ** BARCELONA MEDAL FOR CULTURAL MERIT ** GRAND PRIZE AT THE INTERNATIONAL COMICS FAIR ** GRAFFICA AWARD ** GRAFFICA AWARD ** THE BARCELONA MEDAL FOR CULTURAL MERIT **
Miguel Gallardo (Lleida, 1955 – Barcelona, 2022) studied at the Massana School of Arts and Crafts in Barcelona, where he lived and worked. He began his professional career combining illustration and comics (he is one of the creators of Makoki, an icon character of the underground in the 80s), and is one of the most acclaimed authors of graphic novels in Spain.
He has collaborated regularly as an illustrator in the daily press and in different national and international magazines and publications such as  La Vanguardia, El País, The Herald Tribune, The New York Times and The NewYorker.
His works include Un largo silencio (Edicions de Ponent, 1998-Astiberri, 2012), the story of his father, a Republican soldier during the Civil War; ¿Qué le pasa a este niño? (Serres, 2005), co-authored with Angels Ponce and awarded the Serra D'Or Prize, and Emotional World Tour (Astiberri, 2009), co-authored with Paco Roca.
In 2007 he published María y yo (Astiberri), for which he received the Premi Nacional de Cómic de la Generalitat. In 2009 a documentary was made about the book with the same title: María y yo, which was a finalist in the Goya Awards and the Gaudí Awards for the best documentary of the year.
After the re-publication of Fuga en la Modelo (La Cúpula, 2009) with Makoki again among the readers, in 2012 he published the compilation Todo Makoki (DeBolsillo, 2012).
María y yo was followed by María cumple 20 años (Astiberri, 2015), followed by El turista accidental (Astiberri, 2016) and Algo extraño pasó camino de casa (Astiberri, 2019), a collection of her experiences dealing with cancer.
El gran libro de los perros (Astiberri, 2022) is his posthumous work, written jointly with his wife Karin Croo, in which they recount the adventures of Cala, their adopted dog.
His works have won several awards, including two prizes at the Barcelona Comic Fair, two SND (Society of Newspaper Design) awards, the Serra D'Or and the APIC press award. He has also received the following awards for his entire career: the Gràffica Award (2013), the Grand Prize at the Barcelona Comic Fair (2014), the Animac Lifetime Achievement Award (2022) and the Barcelona Medal for Cultural Merit (2022).
http://miguel-gallardo.com/es/