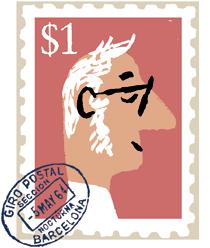 Miguel GALLARDO
Lleida, 1955
Miguel Gallardo (Lleida, 1955) lives and works in Barcelona. He is a regular contributor to The Herald Tribune, The NYT and The New Yorker.
Among other titles, he has published Un largo silencio, a graphic novel about the Spanish Civil War (Edicions del Ponent, 1997 – Astiberri, 2012), Emotional World Tour (Astiberri, 2009), with co-author Paco Roca, La fuga de la Modelo (La Cúpula, 2009), and Todo Makoki (DeBolsillo, 2012), a complete collection of the strips published between 1977 and 1984 about Makoki, a beloved character of the underground Spanish culture.
He won the National Book Award and was shortlisted for the Goya Award to the Best Documentary. His latest published books are the long-awaited follow-up to that international hit, María cumple 20 años (Astiberri, 2015) and El turista accidental (Astiberri, March 2016). His latest graphic novel is Algo extraño pasó camino de casa (Astiberri, 2020).
He has been recognized with the Award Graffica 2013 and the Gran Prix at the Barcelona International Comic Fair Prize 2014.
http://miguel-gallardo.com/es/