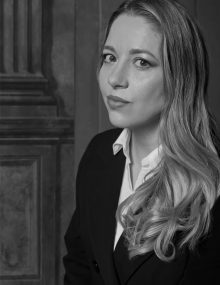 Marta REBÓN
Foto © Outumuro
Marta Rebón studied Humanities at the Universidad Pompeu Fabra and Slavic Languages and Literature at the University of Barcelona. She did postgraduate work in Poland, Russia, and Israel. She was the presenter of the book program Bibliotherapy on Catalunya Ràdio and has worked as a literary critic for a number of magazines and cultural journals, among them Lateral, Revista de libros, and Babelia. She is now a regular contributor to El País and El País Semanal.
Her translation of Vasily Grossman's Life and Fate (2007) won the Russian Literature in Spain Prize, and her version of Georgi Vladimov's Faithful Rusian (2013) obtained a special mention for the same. Both awards were presented by the Boris Yeltsin Foundation and the Pushkin Institute.
In 2017 she published her first book, In the Liquid City (Penguin Random House, Caballo de Troya), an essay exploring the relationships between cities, travel, literature, and translation.