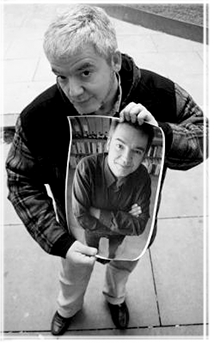 Màrius SERRA
Barcelona, 1963
Photo © Mar Díaz
Màrius Serra (Barcelona, 1963) is a regular contributor to several newspapers, radio and tv programs, and holds a trilingual website dedicated to puns and wordplay (verbalia.com).
He has published thousands of crossword puzzles and articles, numerous books of narrative and several works of wordplay, including Verbàlia (Empúries, 2000 – Octavi Pellissa Prize, Serra d'Or Prize and Lletra d'Or Prize). Among his novels, one should mention Farsa (Columna, 2006 – Ramon Llull Novel Prize), the extremely successful Quiet (Empúries, 2008) and the novel Plans de futur (Proa, 2013), awarded the prestigious Sant Jordi Novel Prize,, followed by Res no és perfecte a Hawaii (Proa, 2016).
He is also a prolific author of books for young-readers, including Tres és massa (Columna, 2003), L'arca de Babel (Estrella Polar, 2012) or La llegenda de Sant Jordi (Estrella Polar, 2016). He is currently publishing the middle-grade series Les aventures de la Napeu (Estrella Polar, 2020-2022), where kids learn about the origin of words and expressions such as "ok", "older than dirt" or "Wikipedia".
After the publication of the best-seller thriller La novel·la de Sant Jordi, written with game-creator Oriol Comas i Coma, (Amsterdam, 2018) and the follow-up to the Oriol Comas i Coma investigations, Jugar-s'hi la vida (Amsterdam, 2019), his latest published title is the third installment in the series, Fora de joc a Montserrat (Empúries, 2021).