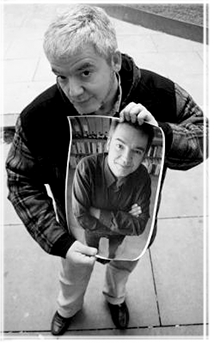 Màrius SERRA
Barcelona, 1963
© Mar Díaz
Màrius Serra (Barcelona, 1963) is a regular contributor to the media and holds a trilingual website dedicated to puns and wordplay (verbalia.com).
He has published thousands of crossword puzzles and articles, numerous books of narrative and several works of wordplay, including Verbàlia (Empúries, 2000 – Octavi Pellissa Prize, Serra d'Or Prize and Lletra d'Or Prize). Among his novels, one should mention Farsa (Columna, 2006 – Ramon Llull Novel Prize), the extremely successful Quiet (Empúries, 2008) and the novel Plans de futur (Proa, 2013), awarded the prestigious Sant Jordi Novel Prize, and Res no és perfecte a Hawaii (Proa, 2016) and the narrative non-fiction D´on trec el temps (Empúries, 2017).
His latest published work is the novel La novel·la de Sant Jordi (Amsterdam, 2018).