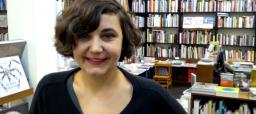 Marina ESPASA
Barcelona, 1973
(*working in conjunction with the publisher: L'Altra Editorial).
Marina Espasa (Barcelona, 1973) graduated in Philology of Romance Languages from the school of Literature at the University of Barcelona and she has worked as a journalist covering culture on Television and Radio. She is a translator, literary critic for the newspaper ARA, and teaches at the Creative Writing School of the Ateneu Barcelonès.
After the publication of her first novel, La dona que es va perdre (Empúries, 2012), her latest work is the novel El dia del cérvol (L´Altra Editorial, 2016).