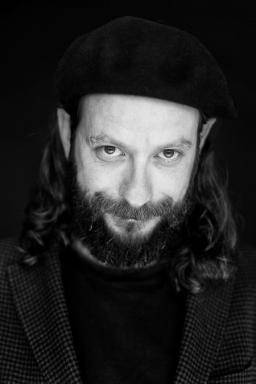 Manuel ASTUR
Sama de Grado (Asturias), 1980
Foto © Muel de Dios
Manuel Astur (Asturias, 1980) is the author of some books of poetry and has published his short-stories in several anthologies, as well as the praised essay Seré un anciano hermoso en un gran país (Sílex, 2015), about the cultural and sentimental evolution of Spain throughout the latest thirty years. He contributes articles and reviews in Spanish media outlets such as ABC Cultural, Quimera, Qué Leer, El confidencial or Revista de Letras, among others.
He is one of the founders of the New Drama artistic movement, whose aim is to deny the most empty version of postmodernity.
In 2017, the European Union, through the Literary Europe Live project, and the association of European Literature Festivals and Literature Across Frontiers, chose him as One of the Ten Most Interesting New Voices in Europe (he was the only Spanish representative).
His latest published work is the novel San, el libro de los milagros (Acantilado, 2020).