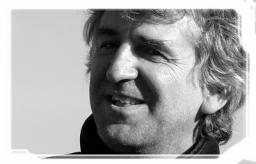 Juan Luis ARSUAGA
Madrid, 1954
© Milagros Algaba
Dr. Arsuaga (Madrid, 1954) is a Professor of Paleontology at the Universidad Complutense of Madrid and Director of the Human Evolution and Behavior Institute (UCM-ISCIII). He is a member of the American National Academy of Sciences,  Member of the Musée de l'Homme of Paris and vice-president of the Comission of Human Paleontology of the International Union Quaternary Research., Visiting Professor at the University College of London and co-director of excavations at Sierra de Atapuerca (WorldHeritage Site). He is the recipient of many national and international  awards, among which the renowned Príncipe de Asturias in 1997
Dr. Arsuaga is a regular contributor to Nature, Science, American Journal of Physical Anthropology and editor of the Journal of Human Evolution as well as  a regular lecturer at the universities of London, Cambridge, Berkeley, New York, Tel Aviv, Zurich, among others.
He is the author of more than a dozen works. Among them, one should mention the perennial long-sellers: La especie elegida (1997), El collar de Neandertal (1999) and Amalur (2002), all published by Temas de Hoy; La saga humana (Edaf, 2007),  El reloj de Mr. Darwin (Temas de Hoy, 2009)  and El primer viaje de nuestra vida (Temas de Hoy, 2012) and El sello indeleble (Debate, 2013).
His latest work is Vida. Una gran historia (Destino, 2019), has been published as a lead title and has already been acquired by several foreign publishers. Furthermore, Arsuaga's backlist titles are such great long-sellers that Destino has decided to reissue them in a special collection that will bring back his most important titles updated, with new covers and introductions.
"Arsuaga's viewpoint comes as a refreshing and instructive contrast to much of the English-language literature (…) [his works] should be read by anyone interested in their own origins and our extinct relatives." Dr. Ian Tattersall, Curator in the Dpt. of Anthropology, American Museum of Natural History, NY
"Arsuaga is one of the world's leading experts on human evolution, as well as a prestigious scientist and a natural born communicator." Ixone Díaz Landaluce, ABC
"We love that wise people explain things to us when they do it in an interesting and affordable way. That is what makes Arsuaga's new book such a  wonder: a luminous treatise on life, the universe and human existence." Víctor M. Amela, La Vanguardia