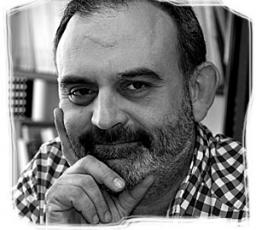 Josep Maria FONALLERAS
Girona, 1959
© Marta Payeró
Josep M. Fonalleras studied Catalan Philology at the Universitat de Girona. He's a highly recognized author who has been awarded numerous prizes and currently writes a daily opinion column in El Periódico newspaper.
Among his long list of works, one should not fail to mention: El rei del mambo (Edicions del Pel, 1985), Botxenski i companyia (Empúries,1988), Avaria (Empúries, 1990), Sis homes (Empúries, 2005), Un any de divorciat (Ara Llibres, 2007) and the novels La millor guerra del món (Edicions 62, 1998) and August & Gustav (Empúries, 2001). He has also published several works for a younger audience. The most recent, Les galetes del Saló de Tè Continental (Cruïlla, 2007) won him the Vaixell de Vapor Prize.
His latest published book is the novel Climent (Amsterdam, 2013).