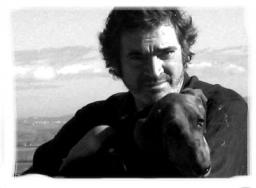 Jordi ESTEVA
Barcelona, 1951
Jordi Esteva is a writer, journalist and photographer. He has travelled all over Africa, Asia and the Near East (Los Oasis de Egipto / The Oasis in Egypt, Lunwerg, 1995). He has worked as a researcher and photographer for the UNESCO in Marrakech and shot a movie for the UN about Socotra's Island in the Indic Ocean (2006).
He is the author of Mil y una voces (El País/Aguilar, 1998), a very enlightening book about the Mediterranean, Arab societies and Islam.
His photography has been exhibited internationally. Esteva has also written about African animism (Viaje al País de las Almas, Pre-Textos, 1999).   In February 2009, after two months in Ivory Coast, the filming of Return to the Land of Souls is completed.
After his book Los árabes del mar (Península/Altair 2006), a long time seller, his latest work is Socotra. La isla de los genios (Atalanta, 2011).