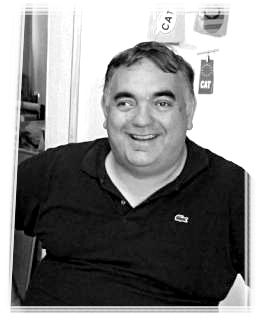 Joan-Daniel BEZSONOFF
Perpignan, 1963
© Jordi Peñarroja
Joan-Daniel Bezsonoff (Perpignan, 1963) is a teacher of Catalan language in Perpignan and writes for several newspapers and magazines. Among his works, one should mention the novels La guerra dels cornuts (Empuries, 2004, winner of the Just M. Casero Award 2003 and the Mediterranée Prize 2004), Les Amnèsies de Déu (Empúries 2005, winner of the Salambó, Crexells and Maria Àngels Anglada awards), Els taxistes del Tsar(Empúries, 2007), La melancolia dels oficials (Empúries, 2011) and Matar De Gaulle(Empúries, 2014).
He has also published some autobiographical books: Una educació francesa (L'Avenç, 2009 – Lletra d´Or Award 2010), Les meues universitats (L'Avenç, 2012) and El fill del coronel (L´Avenç, 2017).
His latest published work to date is the novel La ballarina de Berlín (Empúries, 2017).